Launching new products — let alone entirely new brands — is a difficult task: Which cutting-edge ingredients deliver the best benefits for the consumer? Evaluating new brand launches and new ingredients help answer these questions to inform new product research and development. Jonathan Van Ness recently launched JVN Hair, which is already garnering high customer ratings and massive media attention.
With a growing following, Jonathan Van Ness reaches modern consumers looking for a celebration of hair health, individual uniqueness, and science-backed, sustainable haircare. JVN launched an eponymous haircare line founded upon a hero ingredient: Neossance™ Hemisqualane. Today, JVN Hair is igniting a clean hair revolution with sustainability at the heart of each product.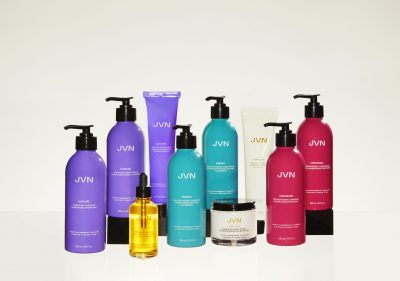 Here are three core principles JVN Hair embodies that all haircare brands can now embrace with Hemisqualane:
Natural and Silicone-Free without Sacrificing Performance
Consumers are concerned about silicone buildup and poor hair outcomes: media outlets like Byrdie are bringing to light how silicones can weigh hair down, prevent moisturizing ingredients from penetrating into the hair shaft, and ultimately cause hair to get dry and brittle or look overly greasy as the body attempts to compensate for dryness. Yet, dimethicone — a common silicone in haircare and skincare — is still used in thousands of products each year. In addition, consumers are learning how silicone-based compounds like D5 are restricted due to environmental concerns. While silicones were a staple of products in the '80s and '90s, brands can move on to greener, better performing solutions today.

JVN Hair is revolutionary because it taps into this immediate need to move beyond silicones and addresses consumers' core desire for naturally derived ingredients. Each product is specifically formulated to pinpoint hair concerns – the range includes shampoos and conditioners for every hair type.

Compared to keratin-based treatments, Hemisqualane provides equivalent damage reduction and hair elasticity benefits. Hemisqualane also protects hair on par with silicones: equivalent frizz reduction and color retention to dimethicone and equivalent combing ease to amodimethicone. It also offers the same thermal protection ability of the popular styling ingredient, polyquaternium-55. Hemisqualane is quickly overtaking the industry's outdated ingredients by offering the same or better benefits using cutting-edge, eco-friendly, and ethical production.

Sustainability is at the Heart of Every Hair Product
Hemisqualane unlocks sustainable formulation opportunities for JVN Hair and other haircare brands because it is sourced from a renewable feedstock — Bonsucro-certified sugarcane. Like all Amyris ingredients, Hemisqualane offers a responsible and transparent supply chain of sugarcane, certified by Bonsucro. Sugarcane requires little to no irrigation, grows multiple times during the year, and reduces CO2. Amyris' yeast-based fermentation platform processes this sugarcane to produce sustainable ingredients.

High-tech, natural, and sustainable ingredients specifically resonate with sustainability-focused consumers. Hemisqualane enables brands to prioritize sustainability in their formulations, with the certifications to support their claims.

Multifunctional Haircare for All
Multi-benefit, easy-to-use ingredients give formulators flexibility to address any concern in any application. Hemisqualane is the ultimate case study on how a naturally derived, hero ingredient can benefit all hair types and all ages. Whether brands are formulating inclusive hair conditioners for waves or curls, Hemisqualane can offer deep conditioning benefits for any silicone-free product. JVN Hair showed it is possible to develop an entire eco-friendly line, from clean shampoo that's safe for color-treated locks to hair cream that dramatically moisturizes hair.
Hemisqualane is already used by brands around the world and is available through Amyris' joint venture in sustainable cosmetic ingredients, Aprinnova. Get in touch with Aprinnova to learn more about Hemisqualane and request a sample today.