#TeamAmyris at Built With Biology  
Dr. Sunil Chandran, Amyris Chief Science Officer and Head of R&D, closed out the first day of the conference with a spotlight talk on how Amyris has successfully taken synthetic biology from Lab-to-Market™ at commercial scale. From a commercial portfolio of sustainable ingredients used in over 20,000 products to our own family of consumer brands, Amyris has delivered on the promise of synthetic biology.
To showcase what it looks like when synthetic biology makes its way to the mainstream, we offered samples of some of our leading consumer products so attendees could experience sustainable and effective products, made with fermentation. Attendees took home samples of Biossance's 100% squalane oil, Pipette's moisturizing hand sanitizer, and Purecane's zero-calorie sweetener, along with some newfound information from our team on the scientific process that underlies all of our consumer brands.
All Amyris consumer products are formulated with our hero ingredients, which are produced via fermentation with sustainably-sourced sugarcane and engineered yeast. From squalane, a moisturizing emollient that is traditionally sourced from sharks but can now be made without any damage to the endangered species, to Reb M, the sweetest and most rare steviol glycoside in the stevia plant that offers the same sweet taste of sugar without the calories, Amyris ingredients all deliver performance and sustainability, at no compromise to the consumer.
Dr. Chandran also joined a panel of leaders in the synthetic biology space to tackle the industry's most pressing question: how to scale in the bioeconomy? Chandran spoke about the lessons learned in his 15+ years in the industry and his experience bringing more than 13 products to market at Amyris.
"If you decide to go the CMO (commercial manufacturing organization) route, you can't just throw the strain over the fence and collect royalties. Small companies retain control by investing in the tech transfer process and ensuring the process works at scale."  
–Dr. Sunil Chandran of Amyris on panel at Built With Biology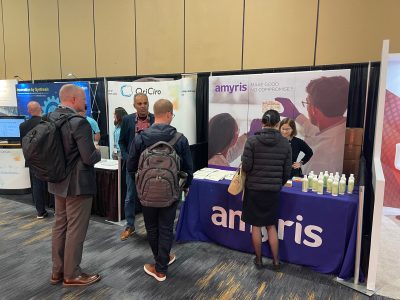 Amyris stands out among the synthetic biology industry for its continued success in reaching commercial scale with fermentation-based production and bringing innovative products to market that consumers turn to for sustainable, high-quality, and accessible goods. Attendees were able to interact with Amyris' consumer products, and importantly, directly connect how synthetic biology yielded these products. The positive response to these products among conference attendees was unprecedented and further encourages us in our journey to developing innovative consumer products across beauty, personal care, haircare, wellness, and more.
As a pioneering company in the industry, seeing some of Amyris' longest tenured R&D leaders – including Dr. Kirsten Benjamin, Dr. Sunil Chandran, Mr. Chance Elliott, Dr. Dmitry Grapov, Dr. Victor Holmes, and Dr. Michael Leavell – join the synthetic biology community nearly 20 years since Amyris' founding was a special opportunity to reflect on our growth and evolution as a company.
Inspiring Applications of Synthetic Biology 
The synthetic biology industry has grown significantly over the years and we couldn't help but feel inspired by the countless innovations emerging in the field and the thoughtful discussions around what the future holds and the role the U.S. government must play in bringing synthetic biology into its next phase of maturity.
Companies and universities of all sizes are using this technology to tackle different problems, and all toward the same shared goal of building a better planet for future generations. From companies developing the future of sustainable packaging with mycelium scaffolding to those building an immersive experience for people to engage with this technology through their senses, the field is evolving in a way that is both promising and exhilarating.
We were thrilled to return to Built With Biology this year and to collaborate with this community of changemakers. Be sure to follow us on Twitter and LinkedIn to stay up to date on all things Amyris and we'll see you next year!