Consumers undoubtedly feel the pressure of record-high inflation rates, with consumer prices up 6.3% from 2021, per the U.S. Department of Commerce. Interestingly, while prices are on the rise, many haven't drastically changed their spending habits, likely due to an increase in savings accrued during the first year of the COVID-19 pandemic – in fact, the Commerce Department also reported consumer spending was up 0.9% in April.
Currently, Amyris has 9 consumer brands in the market with products sold direct to consumers and through partners – both online and retail – including Sephora, Target, Walmart and more. Within the beauty and personal care industry specifically (one of Amyris' leading consumer industries), Mintel reported that 55% of U.S. consumers are very concerned with the environmental impact of the brands and products they use. This data correlates with the nearly $35M Amyris reported in consumer brand revenue in Q1 2022 alone, demonstrating the staying power of sustainable-first products and how much consumers value sustainability.
While it's too early to say whether inflation is beginning to downtrend or consumer spending will remain strong, we believe that sustainable products must remain accessible to all.
Amyris has been at the forefront of transitioning the world to sustainable consumption and accessibility has been a vital part of our mission and business strategy. The key to gaining widespread adoption of sustainable products lies in ensuring that products are accessible to as many people as possible – in terms of price competitiveness, user experience, and purchasing availability. We realized early on that making sustainability accessible would be vital to achieving our mission of building a more sustainable future for all.
World Ocean Day is around the corner and on June 8, people from all around the world will rally together to raise awareness for the ongoing need for action to protect our one shared ocean. To understand how brands can support consumers during these economic and environmental challenges, let's take a look at Squalane – a flagship ingredient we commercialized to protect our ocean.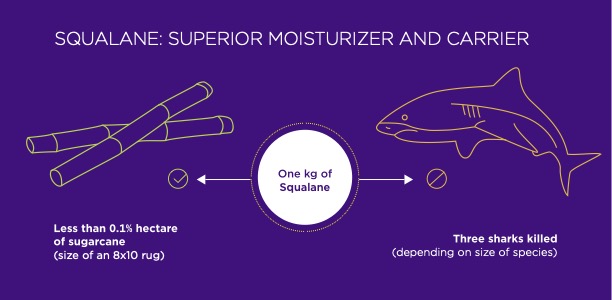 Squalane is a popular skincare ingredient that was primarily sourced from deep-sea shark livers. Millions of sharks were killed for this singular ingredient, endangering shark species and damaging fragile marine ecosystems. Amyris pioneered a new way to produce Squalane that eliminates the need to source directly from sharks.
Importantly, when we brought Squalane to market, it was priced below the cost of shark-derived Squalane. This incentivized manufacturers to choose a more sustainable alternative and as a result, Amyris has become a leading provider of Squalane. We estimate our Squalane offsets the killing of millions of sharks per year and our sustainable skincare brand, Biossance continues to offer opportunities for consumers to prioritize sustainability with its ongoing partnership with Oceana, special edition World Ocean Day products, and a percentage of select purchases donated to Oceana.
As we strive to balance the urgent need for environmental action with the realities of the current economic state, we have outlined three principles we believe are essential in navigating this trying period:
Innovation drives change: We cannot put a price on the health of our planet – Earth does not have time to wait for society to take action or for the market to recover. As a company, we have evolved before to adapt to changes in the market, consumer demand, and even a global pandemic – this will be no exception. We are committed to ensuring that sustainable products remain accessible to consumers and are prepared to innovate, adapt, and evolve as needed to continue fulfilling our mission.
Lead with transparency: The unfortunate reality of inflation is that in some cases, price increases are unavoidable due to a multitude of variables. What can be avoided is uncertainty and confusion around why prices are changing and what the plan is to eventually lower prices. In the same way we give full transparency into our ESG profile and sustainability metrics, we aim to do the same with our pricing. As a consumer, you deserve assurance and visibility that the brands you support are prioritizing accessibility so that sustainability is not a privilege, but the golden standard.
Fight for the long game: The road to building a sustainable future is a long one and can often feel incremental. Even with today's current economic challenges, we know that consumer appetite for sustainability is strong – the Simon Kucher & Partners'  2021 Global Sustainability Study found that 85% percent of people have shifted their purchase behavior toward being more sustainable in the past five years. Further, one third of participants reported being willing to pay a premium for sustainable products. While we may have hit a temporary snafu, we know that the desire and willingness to consume more sustainably is there – and we must be willing to work to meet consumer demand for sustainable products in times of both economic challenge and prosperity.
Learn more about our family of consumer brands and follow us on Twitter and LinkedIn to stay up to date on how we're pursuing our mission to transition the world to sustainable consumption.