As one of the earliest synthetic biology companies to successfully reach full-scale manufacturing with fermentation technology, Amyris has a unique perspective on what it takes to scale up fermentation and downstream processing technology. As a fundamental principle, Amyris prioritizes scaling up as quickly as possible to gain competitive business advantages. By reaching industrially relevant scales faster, Amyris can produce larger samples quickly, sample customers early and often for feedback, initiate any regulatory processes early on, and quickly assess how the technology is performing in manufacturing facilities. Individually, any of those factors is compelling enough to rapidly push to industrial scale, and when leveraged holistically, Amyris has an unmatched view into manufacturing operations and market potential.
From strain engineering to process development to full-scale deployment, Amyris has achieved impressive manufacturing milestones with 13 sustainable products in market and almost two decades of experience in 17 full-scale production facilities across 7 countries.
At the 2022 Commercializing Industrial Biotechnology (CIB) conference, leaders from Amyris R&D and Process Development (PD) team joined the community of scientists and engineers making the manufacturing of bio-based products a reality. Dr. Kirsten Benjamin, VP of Biology at Amyris, was one of the industry leaders that helped host this year's conference and Paul Hill, SVP of Process Development and Engineering at Amyris, spoke to attendees on lessons learned from the nearly two decades of developing and deploying technology for more than a dozen ingredients.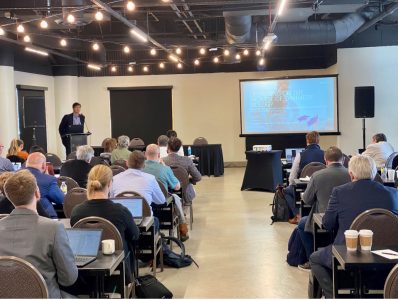 "Once again, CIB saw another year of incredible progress, from innovative target identification approaches to increased commercialization of products from sugars to waste materials to steel plant exhaust emissions. During my session, I shared how our unique approach to integrating strain engineering, fermentation and downstream processing PD, and infrastructure investment led to the rapid commercialization of one of our most successful molecules to date – Reb M, a natural, zero-calorie sweetener. Amyris continues to deliver unprecedented levels of purity at industrial scale, demonstrating what it means to truly unlock the power of synthetic biology." – Paul Hill, SVP of PD and Engineering  
The opening of Amyris' new Barra Bonita precision fermentation facility was a natural next step as the business grows and this plant represents a continued investment and commitment to synthetic biology. Barra Bonita will enable Amyris with a new level of scale and efficiency – the facility features:
A proprietary design with a process tower two times taller than Amyris' former Brotas plant allows Amyris to take full advantage of gravity with the vertical fermentation process.
The most advanced biotech manufacturing cluster, consisting of five self-contained lines for diverse molecule production and up to 1,440 cubic meters of production fermentation capacity.
A strategically chosen location next to the Raízen sugar mill, which is the second largest sugar mill in the world and will ensure continuity of a sustainable feedstock supply.
An unrivaled ESG footprint with Bonsucro-certified sugarcane, sustainably generated electricity, and BioGas supply starting in 2024.
With every successful fermentation run at industrial scale, Amyris gains another opportunity to closely examine sustainability metrics – like CO2 footprint and water usage – to identify areas for optimization. As a result, Amyris continuously refines its Life Cycle Analyses (LCA), receiving more precise feedback at every stage, from inception to final product shipping to waste disposal. This feedback informs where the team should direct technology development efforts to improve the sustainability of Amyris products. Through this understanding, Amyris can also better estimate the sustainability impact for new product opportunities being explored and thus make better choices for new technology development and deployment.
Manufacturing at full-scale capacity has allowed Amyris to deliver on its commitment to people and the planet – to Make Good. No Compromise.® As the company continues to expand its reach to even more consumers around the world, the Amyris LCA engine will only grow stronger, enabling the highest-level of quality and performance for the world's sustainable ingredients.
Learn more about the new Barra Bonita plant on the Amyris YouTube channel and follow on Twitter and LinkedIn for more updates.